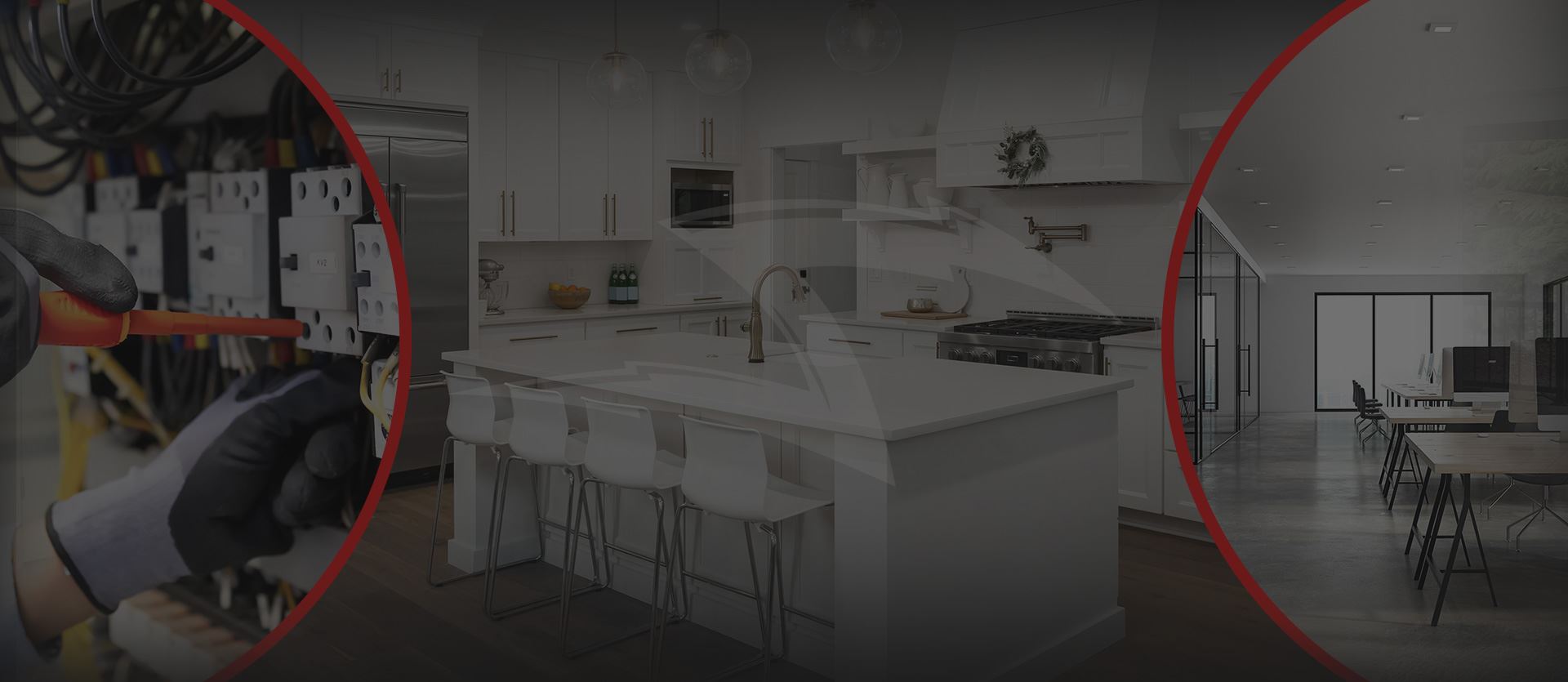 Seattle's Premier Electrical Services
Custom Electrical Services
Proudly Serving Seattle & Surrounding Areas
Licensed and Insured Electrical contractor serving both residential and commercial customers across the Pacific Northwest.
Request Your Free Estimate
Electricians in Seattle
Serving Customers Across
King and Pierce Counties
When you need an electrician for your residential or commercial property, call Custom Electrical Services. For over 10 years, we have provided numerous customers with unique electrical solutions that powered their properties. From faulty wiring repairs to electrical panel replacements, our dedicated team can deliver the high-quality results you need. For all our services, we provide free estimates before we ever get to work. This gives our customers a feeling of confidence that they know exactly what they are getting and how much it will cost. As the area's go-to electricians, we can also offer same-day appointments for repairs and maintenance that return power to your property.
Call Custom Electrical Services today at (206) 558-0440 or reach out to us online.
Electrical Panels

Faulty panels should be replaced by our team at Custom Electrical Services as soon as they show signs of trouble. Our dependable Seattle electrical panel replacement and installation is the best way to assure a safe and secure system.

Learn More

Electrical Diagnostics

Custom Electrical Services provides a comprehensive electrical troubleshooting and repair service for our loyal clients. Our team of licensed electricians is extremely knowledgeable and has the experience to fix any electrical problem.

Learn More

Electric Vehicle Charging

An electric vehicle charger allows residents to quickly charge their cars without paying extra. Before getting an installation, however, it is important to have a dedicated team of electricians come and assess your home.

Learn More

Generator Services

Custom Electrical Services specializes in home generator installation and backup power solutions. Based on budget and power requirements, our team of specialists will determine which home generator solution is best for your home and family.

Learn More

Commercial Services

When it comes to maintaining a commercial property, it is important not to forget about the electrical network. Our team at Custom Electrical Services is ready to help with any kind of electrical installation, replacement, or repair.

Learn More
Custom Electrical Services
Proudly Serving The Pacific Northwest
"They were quick to respond to my original request, were able to quote the work from photos that I took, and were clear with their costs. Communication leading up to installation were great, including morning-of phone call to let me know they were on the wa"

- John W.

"Despite some timing issues and scope adjustments needed Custom Electric was true to their word and completed a nightmare of a project which was touched by 4 different electricians before they came in, rectified any pre-existing issues, and saw it through f"

- Michael A.

"They were genuine and wanted to help us. You have saved this family from a heat wave!"

- J. S.
Electrical Contractors with Experience
We believe there are a few things that elevate our services above the rest.
Our team:
Has a proven track record. For over a decade we have been meeting and exceeding our customers' expectations.
Is punctual for the job. We value your time and are sure to demonstrate our respect for it by showing up when we say we will and working fast and efficiently.
Communicates professionally. Our service estimates clearly describe the scope of projects and their prices, so you are never surprised. We are also happy to field and answer any questions you have while we are working on your property.
Offers superb workmanship. Our team of electricians is highly trained and skilled, and the results they provide are second to none.
Whether you want to install an electric vehicle (EV) charger, upgrade your property's lighting, or get the security an energy backup system can provide, get the help of our Seattle electricians.
Why We're the Community's
Go-To For Electrical Service Needs
Effective & Informative Communication

Innovative Methods & Techniques

Customized Individual Approach

Outstanding Customer Service
At Custom Electrical Services, fulfilling our customers' every electrical need is our top priority. That is why we have partnered with QMerit, an industry leader in electrification technology. Together, we make going electric easier than it has ever been before.
Electrification is enhancing many facets of our lives, including the way we light buildings, store energy, travel, and so much more. Do you want to know more about the advantageous technologies that we could bring to your property? Call your trusted QMerit partners today.
QMerit certification is a symbol of excellence that only select electrification providers have earned. That we have this distinction means you can trust our services are safe and up to the highest quality standards. All QMerit Certified Solutions Partners are electrification leaders in their market.
Our Seattle electricians are also:
Trustworthy consultants and technicians that can bring electrification technologies to your property

Licensed, insured, and background-checked

Compliant with the laws regarding workers' compensation and local building permits

Avid learners who frequently participate in training on the latest technology and service methods

Equipped to work with the technology's top brands
Let us help you go electric! Call us today at (206) 558-0440 or connect with us online.